Here's the newest episode of the podcast! This time we bring you back to September with our recording of the Draw More Income Panel. It was filled with insight from our panelists Derek Besant, Lee Deranger, Brittney Tough, and Kari Woo on how they manage to make a living as an artist. Afterwards, they help our audience answer their own questions about the professional aspects of being an artist. All of this was conducted by the ever-intriguing Chris Carson, executive director of Visual Arts Alberta – CARFAC.
We were so happy to have hosted this talk and to be putting podcasts out again. We will be releasing a new episode on the 15th of each month now, so stay tuned.
We'd also like to give a big thanks to ACAD for hosting us and to Elephant Artists Relief for co-hosting this wonderful event with us! Elephant Artist Relief Society (EAR) is a registered charity that provides practical resources to Calgary visual artists in order to help sustain their well-being and livelihood, contributing to a vibrant cultural community.
Find them at:
http://elephantartistrelief.com/
For some more information on any of artists, check out the following links:
http://www.derekbesant.com/
http://brittneytough.com/
http://www.kariwoo.com/
This episode was recorded live by Ryan Hemphill at The Alberta College of Art + Design.
Editing done by Graeme Dearden.
Additional help and support from Sara McKarney and Chris Carson.
Background music composed by Kevin MacLeod at incompetech and the folks at Purple Planet.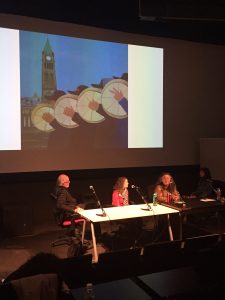 Podcast: Play in new window | Download
Subscribe: RSS