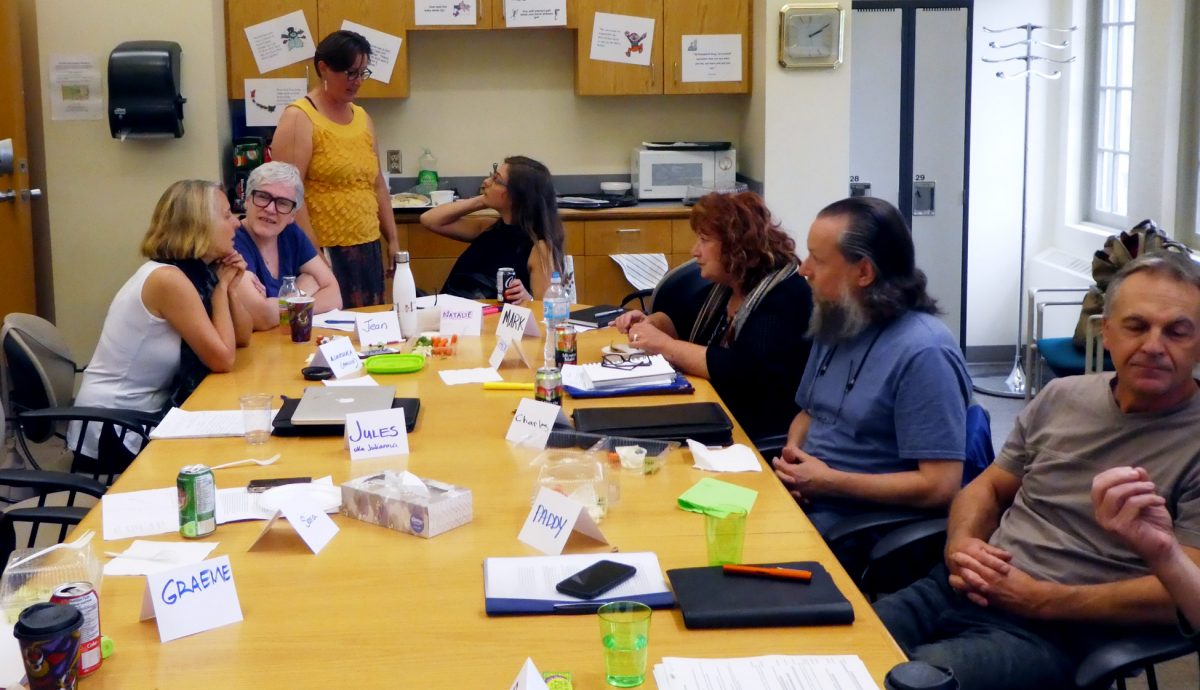 With undergraduate studies completed at the University of Alberta and a M.F.A. in painting from the University of British Columbia, Chris W. Carson is both professional visual artist and arts administrator. His art career includes exhibitions at public, artist run and commercial galleries throughout Alberta. Currently his artwork is exploiting monsters, martyrs and himself. As an administrator, Carson worked for commercial and public art galleries, a professional arts organization and two provincial arts service organizations. Since August 2010, Chris W. Carson is the Executive Director for CARFAC Alberta (Alberta's CARFAC affiliate since 2012).
Sharon Moore-Foster is a professional visual artist, art educator, motivational speaker and facilitator with over forty years experience. In her 20 years experience in non-profit arts organizations, and currently in her role as the Program and Development Coordinator, she provides mentorship and professional development opportunities to help artists build their professional practices. She is dedicated both personally and professionally to developing involved artistic / creative communities.
Danyon Reeves graduated from the University of Alberta's BDes program in 1996, majoring in Visual Communications Design and minoring in Sculpture. He has lived and worked in Calgary and Toronto, where he developed award-winning websites for VTape and The Walrus magazine. He is not looking forward to the impending dark age.
Graeme Dearden is an Alberta arts and culture worker currently residing in Edmonton, AB. Graeme has been working for CARFAC Alberta for 6 years now as Communications Assistant and Communications Coordinator. Graeme also currently works at Volunteer Alberta and has an active art practice in printmaking and glass working.
CARFAC – Alberta Board of Directors
A new Board for 2018 -19 became effective September 29th, 2018. The following Board pictures and biographies will be updated shortly…
Sara McKarney is a preparator, arts administrator, and practicing artist.  She received a Fine Arts Diploma from MacEwan University in 2008, a Bachelor of Fine Arts from the University of Lethbridge in 2010, and completed a Preparatorial Work Study through The Banff Centre in 2012. She is currently the Exhibitions Coordinator at the Art Gallery of Alberta.
Paddy Lamb was born in the city of Armagh, Northern Ireland. He moved to Canada in 1985 and worked as a historian and archivist before devoting himself to a full-time career as a visual artist.
He was awarded a fellowship and residency at the Ballinglen Arts Foundation in Ballycastle, Co. Mayo. Other residencies include the Thomas Gushul Studio in Blairmore, Alberta, 2Rooms Contemporary Art Projects, Duntara, Newfoundland, and the Ortona Armoury in Edmonton.
Paddy is currently Alberta's representative on the National Board of CARFAC and National Vice-President.
Jean is a CPA who has worked as an auditor with Canada Revenue Agency for over thirteen years. Prior to that she worked in public practice for six years. She was the General Manager of a visual arts not-for-profit for fours years, and has worked in private industry, as well. She is currently serving her fourth year as Treasurer for CARFAC Alberta.
Agnieszka Matejko is a community based artist whose practice focuses on youth, children, and engaging non-arts based groups in public art projects. Her recent collaborative works include: We Walk Together, a text-based installation sandblasted into sidewalks on the High Level Bridge; Poetry Pathways in the Meadows, eighty poems written by youth and residents sandblasted into local parks; Welcome, digital murals in the Ormsby Community Centre that feature stories of newcomers; Kickflip, Imagine and Graffiti Poetry, among other murals that engage youth and area businesses. Agnieszka is a freelance visual arts reviewer for Galleries West, and formerly a Sculpture and Visual Fundamentals instructor at MacEwan University and the University of Alberta. She is currently a recipient of a New Chapter Canada Council Grant to create a text based installation in the McCauley community.
Patrick Close is a post emergent visual artist, renga wrangler, poet, curator, researcher, consultant, activist and cyber-flaneur. His works are found in the National Gallery of Canada, the Canada Council Art Bank , the Moderna Museet in Stockholm and various other galleries and private collections. He has an extensive history in arts management, policy and program development. He has been a CARFAC member since the '70's.
As a life long learner and researcher, Barabas practices across disciplines. She has been described as one who gently pushes boundaries. Photography, design, sculpting, sound, interactive installation, drawing, textile and live art have all played a part in her practice. Most recently she has been studying and fallen in love with the meditative process of gem cutting/facting. 2018 marks the fourth time she has to moved back to Edmonton
Charles has a background in art and design. His art background includes performance works, installations, audio, video, print, broadcast and guerilla projects. As a designer, he has worked for corporate and non-profit organizations. His freelance career includes galleries and museums across Western Canada, the United States, and Mexico. He previously served on the board of The New Gallery and Em/Media.
Natalie Lauchlan is an emerging artist currently based in the Calgary area. Currently, she spends her days working in Elementary Schools, community programs and Special Educations settings providing arts education. Natalie feels passionately about supporting the arts community in Alberta, and through her role on the board of CARFAC Alberta, she hopes to continue to reach out to and support the artist community across the province.
Ruby J. Mah (MFA  Painting) currently holds the position of Art Store Assistant/Resource Technician within the department of Art & Design at the University of Alberta. She has attended the Emma Lake Artists Workshop with artists William Perehudoff, Harold Feist, Douglas Haynes and Joseph Drapell. Mah was an exhibiting member of ECAS (Edmonton Contemporary Artists' Society). Her studio practice includes mixed media painting, sculpture and assemblages to explore human emotion and textual content using prose and poetry as sources which creates mental landscapes that visualizes internal thoughts and feelings, thus transmuting the content of the written word into visual colorscapes. Mah is represented in private corporate, public and private collections. Her work is also in private collections in the United States, Japan and Hong Kong. Mah is represented by Lando Gallery in Edmonton.
Dr. Troy Patenaude, PhD, is a cultural/art historian and educator from mixed Métis ancestry. He facilitates intercultural sharing programs and is concerned with decolonizing the Canadian artworld. He has taught at ACAD and U of C, is co-owner of Cross River Wilderness Centre, and is Director of Cultural Development at Fort Calgary.
I am a Metis artist of Dene-Suline-Saulteaux-Neiyho and Scottish descent, when I make art I envision my ancestors moving along the Carlton Trail harvesting plants and hunting. I am mindful of the struggle they endured that is interwoven in the making of Canada. When my art emerges from the belly of my studio it takes on a larger voice redefining my identity, the art becomes life beyond the bush. The art process and life experiences and travel, weaved together experiences and invitations and exhibitions abroad becomes a thread of information within my art materials to process to develop into a lifetime sash.
Mark Vazquez-Mackay's work has been exhibited and collected across the continent. As one of this country's most prominent observational painters/drawers, Mark is known as a ceaselessly inventive explorer of the human figure and portraiture. While he is widely respected as a painter and teacher, Vazquez-Mackay's impact on his local community as a muralist, a mentor and a volunteer is hard to overstate since a central part of his practice is to create and nourish artistic communities and to create links between those communities and the citizens of Calgary.
Mark Vazquez-Mackay received his BFA from Alberta College of Art and Design in Calgary, Canada and his MFA from the Instituto Allende in San Miguel de Allende, Mexico. Mark Vazquez Mackay taught for a year at the Instituto Allende and has been teaching drawing and painting at ACAD since 2004. In addition to his post-secondary teaching work, Vazquez Mackay is the current Artist in Residence at Willow Park Middle School and has taught for a range of public and private institutions including Studio C, Tom Baker Cancer Centre, and the Arts Commons.
For all general inquiries and to contact any CARFAC Alberta Board Member, please send an email to carfac@visualartsalberta.com indicating who the email is for.