Today for the podcast, we are very excited to bring you the second a few mini-episodes from the 2017 CARFAC National Conference/AGM that was held early June 2017 at the MacEwan University in Edmonton. It was such a great weekend full of insight from people all over Canada that care about the rights of arts and culture workers and Visual Arts Alberta – CARFAC was happy to host.
Today's episode is from Jennifer Bowen Allen, who is an emerging Dene curator and arts administrator from Whitehorse, Yukon. We were very grateful to have her here to talk a bit about her culture, artwork, and life. She spoke about the challenges faced and opportunities available to artists living in the north, as they build their careers.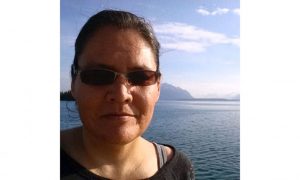 To learn more about Jennifer, check out https://www.kwanmaydayedaatthi.com/jennifer-bowen-allen/
This episode was recorded and edited by Ryan Hemphill with assistance from Sara McKarney.
It was recorded at MacEwan University in Edmonton, Alberta (http://www.macewan.ca/)
Intro music: "Outsider's Paradox" by springtide (www.springtide.jp), accessed through Free Music Archive.
Podcast: Play in new window | Download
Subscribe: RSS