We're back with another PD talk held a few months ago at our cross-province Annual General Meeting. Tune in to hear Edmonton artist and business owner Kim Fjordbotten explain the connection between the art world and business world in this fantastic recording. As she puts it "let's discuss the keys to building a new economy for visual artists."
Kim Fjordbotten has been active in Edmonton's art community for many years now. She owns The Paint Spot and produces The Whyte Avenue Art Walk every year, while still finding time to teach art classes to the Edmonton community.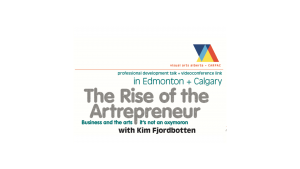 This episode was recorded and edited by Graeme Dearden.
Additional support provided by Sara McKarney and Chris Carson.
The original talk was given at the Northern Jubilee Auditorium with a video link to Southern Jubilee Auditorium.
(www.jubileeauditorium.com)
Intro music: "Outsider's Paradox" by springtide (www.springtide.jp), accessed through Free Music Archive.
Podcast: Play in new window | Download
Subscribe: RSS