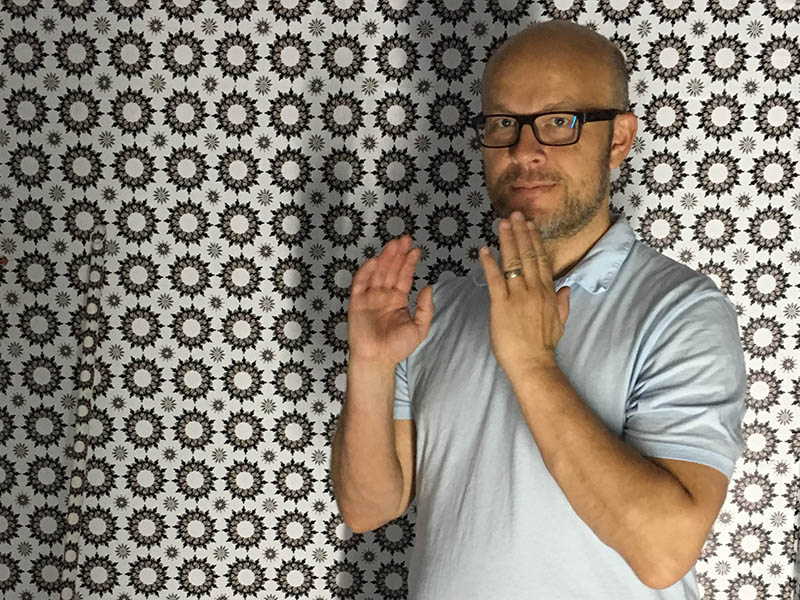 In the late 1980s, Cam Christiansen was a teenager living in the Edmonton suburbs, when his Danish-born dad decided to take the Christiansen family on a European vacation.
That experience jump-started Christiansen's understanding of how creative cities—and lives, including his own—could potentially be.
"When you went to Europe, pre-Internet, it was actually a real culture shock," he says. "I remember literally poking our heads out of the train station in Copenhagen and seeing all these European backpacker kids—and they all had these great scarves and were so exotic–and European!"
The impact upon teenaged Christiansen was total—in all the best ways that a suburban teenager's life can be transformed.
"It was absolutely inspiring and eye-opening and changed my life, actually," he says. "There's no other way to say it.
"It just absolutely blew my mind."
That trip inspired Christiansen's first creative paying gig: making chalk drawings of European masterworks on the sidewalk during the Edmonton Fringe Festival.
"I laid down some Rafaels on the ground there," he says. "I made tons of money—for a high school student!"
All of which also led to Christiansen enrolling at the Alberta College of Art + Design where he studied painting.
Christiansen graduated in 2000, right around the dawning of the early days of digital advertising, which was then dominated by flash animation—something he also had a facility for, when he landed clients such as Mercedes-Benz, Rolex, and Dell Computers.
"This was right at the start of the dot com boom, so it was actually an exciting period, when you think about it," he says. "That's how I got into animation, doing it commercially to make a buck—and then you start to realize there are some artistic things you can do with it."
Christiansen then took his 21st century digital animation toolkit and found whole new ways to connect to his creative self with them.
The first was I Have Seen the Future,  a six-minute long animated short based on a song by Calgary writer and singer and actor Kris Demeanor—who also had a European-born dad—about—spoiler alert—the jarring alienation of life in the suburbs.
That short ended up winning an award at the Los Angeles Film Festival, being selected to Sundance and the Toronto Film Festival, and getting Christiansen a foot in the door with the National Film Board of Canada.
What's instructive, for every aspiring filmmaker, is that it all started with a pitch session at the Banff Television Festival that went nowhere.
"We didn't get it," Christiansen says. "We were turned down—so I thought oh, that's too bad. Whatever.
"And then, through a series of weird circumstances [that arose out of that rejected pitch session], we ended up getting money ultimately."
The whole experience was a revelation to Christiansen that if you throw a creative idea out into the world, chances are you might find someone trying to catch it.
"That film was a massive surprise because I had no expectations at all," he says. "I had very low expectations, and it took us all over the world.
"Then it went to Sundance," he says. "Suddenly I"m meeting [Robert] Redford and Quentin Tarantino! It qualified for an Oscar and won the LA Film Festival. So it was this absolutely fun experience, we just had a great time, and that kind of made me think hey, we should do something a little more seriously with animation—obviously, we've stumbled onto something fun here."
That—and the fact that his pitch session had been attended by NFB producer Bonnie Thompson—led to a second film, The Real Place, made with Calgary playwright John Murrell.
He followed The Real Place in 2009 with The Five Hole: Tales of Hockey Erotica, an animated adaptation of a Dave Bidini story (that was also theatricalized and presented at the 2007 High Performance Rodeo).
And then, between Five Hole and Christiansen's latest film, the award-winning WALL, seven years passed.
WALL was inspired by a monologue British playwright David Hare wrote about the Palestine-Israel conflict that became a podcast his producer heard one day.
From suburban ennui to the West Bank—it was storytelling on a global, geopolitical level that required Christiansen to travel repeatedly to the Middle East.
"I was really scared to go," he says. "That's where I differ from documentarians—when the bullets fly, that's where the documentarians want to be. They get off on it. That's not at all me. I'm not going to get shot over an animated film. So you know—I had a lot of trepidation."
Christiansen arrived in Tel Aviv without much difficulty, but when he tried to clear the security entrance to enter the West Bank, he ran into some skeptical Israeli soldiers, who questioned him for four hours before admitting him.
Then he discovered that the partitioned refugee zone in his head was different than the one in front of his eyes.
"I thought Gaza was almost the West Bank, but they're not at all the same thing," he says. "Gaza is horrible—bombed out, a terrible situation.
"The West Bank isn't so much like that, especially places like Ramallah—basically but you go into Ramallah and they have coffee shops with WiFi. There's a Mac store."
While the West Bank was more comfortable and—well, suburban—than Christiansen ever envisioned, over it all loomed a wall that separates Palestinians from Israelis, and hangs over their lives.
"It hugely impacts their lives in a very negative way," he says.
"As a Canadian, it was interesting because we take for granted how we don't ever think about security. It's not an issue that comes up that much—so when you're there, there's always this kind of underlying tension, because on either side, things can break out at any second."
On the other hand, Christiansen got the opportunity to explore Jerusalem, a magnificent historical city.
"I loved the historical stuff," he says. "Jerusalem is super rich and marvellous and transcends all the current politics in its historical and religious significance.
"It's absolutely profound to visit," he says. "I'm really glad to have experienced it."
The other thing Christiansen has gotten to experience is the movie industry, in all its razzle dazzle.
WALL has been an international success, taking him to festivals across the world.  Seven years in the making, it's a triumph—if not economically (Christiansen receives a salary from the NFB for making it, but there's no million dollar payday waiting), then creatively.
And that got him talking to one of his mentors, ACAD professor Gord Ferguson, about the true value of living a creative life.
"The truth about the arts is, you may not earn as much as other disciplines," he says, "but you know, I think the beauty of the arts is that it just gets personally richer as you get older.
"And some people I know who had trouble retiring—struggling with identity—finding something that inspires them as they get older, in a way, the arts is great because it's independent of that."
The other thing Christiansen learned from visiting Jerusalem to research the making of WALL and interviewing dozens of people representing the various perspectives on the Israel-Palestine conflict is the power of a story.
"We're so invested and our identities are so shaped by it," he says. "Again, as you get older, I think stories are all that you're left with.
"People are actually willing to give their lives for their stories," he continues. "My story is right and I'm willing to die [for it].
"It's amazing when you think about it that way."