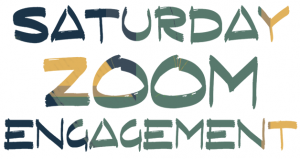 We have three more Saturday Engagement Sessions this year. Anyone across the province can 'drop in' and say hi, ask questions, or just listen if you like on Zoom.
All Saturday Zoom Engagement Sessions run from 1–2:30pm Mountain Standard Time.


November 28: Perspectives from Within: Exhibition Celebration + Artist Meet & Greet
with Dick Averns, hosted by Chris W. Carson. 
Exhibiting Artists: Krista Acheson · Wes Bell · Alexis Marie Chute ·  Father Douglas,osf  · Maren Kathleen Elliott · Christian Peres Gibaut · Riisa Gundesen · Natalie Lauchlin · Zana Wenzel
Join us online, where Dick Averns will speak to the exhibiting artists (listed above) about their works in the show, and attendees can meet and greet with everyone involved. You must RSVP to join the session on Eventbrite by noon on Saturday November 28. You will receive the password to join the discussion that begins at 1pm. Bring your questions… Hope to see you there!