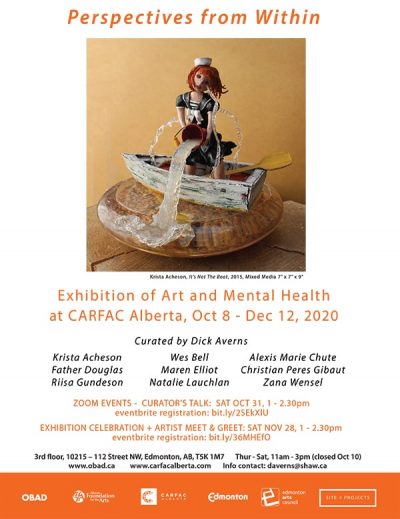 Perceptions from Within (Art and Mental Wellness Juried Exhibition). It will be on view for the months of October, November and December. This exhibition is a partnership between OBAD (Organization for Bipolar Affective Disorders) and CARFAC Alberta and was coordinated by Dick Averns. The artists featured in this exhibition are:
Alexis Marie Chute
Christian Peres Gibaut
Natalie Lauchlan
Riisa Gundesen
Father Douglas
Zana Wensel
Maren Kathleen Elliot
Krista Acheson
Wes Bell
There will also be two Zoom events accompanying the show. Dick Averns will host a Curator's Talk on Saturday, October 31 from 1–2:30pm. Register through Eventbrite.
An Exhibition celebration + Artist meet-and-greet will take place on Saturday, November 28 from 1–2:30pm. Register through Eventbrite.
CARFAC Alberta Project Space hours is open to the public (capacity of 3) Thursday, Friday and Saturday between 11 and 3pm.
The CARFAC Alberta Project Space • 3rd Floor, 10215 112 St. Edmonton.
780.421.1731 • carfacalberta.com