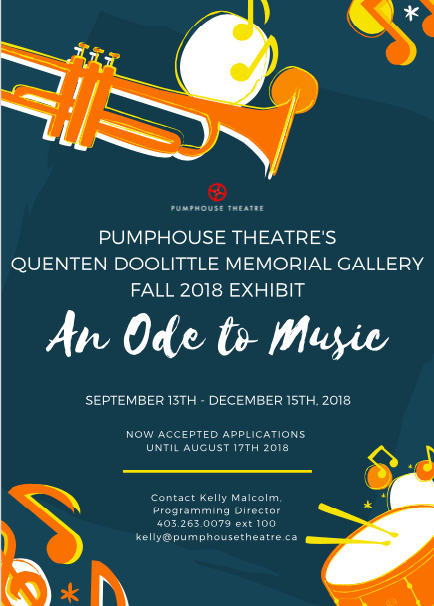 The newly titled Quenten Doolittle Memorial Gallery – known before as the Pumphouse Theatre Lobby Art Gallery –  is now accepted submission for our Fall Exhibit 2018: An Ode to Music September 13th to December 15th, 2018 with the deadline to submit August 17th 2018.
The Pumphouse Theatre is a vibrant facility with historical significance supporting and presenting all art forms; and creating opportunities for engagement, enrichment, cultural experience, learning and inspiration serving all Calgarians. The Quenten Memorial Gallery provides accessible wall display space for Calgary and Alberta visual artists to display and sell their work, free from commission. For this Fall, we are asking artist of all visual art mediums to submit work that is inspired by music. All submission packages must contain a completed submission forms, images of the work being submitted, and an artist bio.
Please find attached submission package and poster, along with the press release to announce the title change.
Ode to Music Call for Submission 2018 v1.1