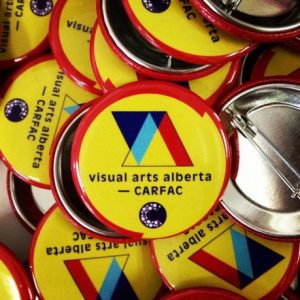 Why CARFAC remains Vital to all Artists
After operating as the provincial affiliate host for 4 years, Visual Arts Alberta Association decided to become the full provincial affiliate for Canadian Artists' Representation/Le Front des artistes canadiens (CARFAC) in Alberta.
The rationale for this decision was clear to the board and staff of Visual Arts Alberta and endorsed by the membership at the Annual General Meeting held on September 29th in Calgary.
Since its formation in 1968, CARFAC advocates for the socio-economic conditions of all visual and media artists. Artists need to work together to create a healthy visual art sector throughout Canada. CARFAC works for all Canadian artists. Visual Arts Alberta – CARFAC will work on behalf of all artists in Alberta.
Started in the optimistic years of the late 1960's, CARFAC was the first organization to bring the socio-economic plight of artists to the attention of the general public and all levels of government. The establishment of Artist Fees was a monumental achievement for Canadian artists and was instrumental in the establishment of Artist Fees in many countries throughout the world.
The years of the 1960's was a time when there was a belief that anything was possible: universities and post secondary institutions were expanding, artist run centres were established to provide non commercial artists with meaningful venues for the dissemination of visual culture. While visual artists often had to work outside their studio, their outside jobs had benefits such as a pension plan, extended health benefits and employment or unemployment insurance.
In 2012, the Canadian visual arts sector continues to grow, however it is not always thriving. Funding to the arts and culture sector, while growing, is not keeping pace with population growth. Many cultural institutions (educational, governmental and artistic) have contracted rather than experienced real growth in funding. Many universities, while maintaining Visual Arts departments, have resorted to hiring part time staff rather than providing jobs with benefits.
The realities have changed for granting agencies (in today's world, it is considered a victory when a cultural granting agency does not receive a cut; gone are the days where governments put more money into the arts on a yearly basis).
Artist Run Centres while retaining their alternative vision have not been able to deal with the growth in numbers of artists. In 2012, a similar number of alternative art venues are forced to deal with an expanding number of artists. New gallery venues, like pop up galleries and DIY (do-it-yourself) venues are not keeping pace with need and unfortunately, these new venues often do not have any financial resources at their disposal for paying Artist Fees.
In 1992, the Status for Artists Act was adopted as federal law in Canada. This act applies only to federal jurisdiction but does recognize the fact that artists do not receive enough compensation for their work. Since 1992 this federal act has been used to create a Provincial Act for artists in 5 provinces. Unfortunately, Alberta has never implemented any legislation for artists. This is one of the goals for Visual Arts Alberta – CARFAC.
The federal Status of Artist act gives CARFAC the right to negotiate on our behalf with art galleries that operate under federal jurisdiction (the National Gallery of Canada). CARFAC has been negotiating with the National Gallery to get them to recognize that copyright payments are a necessary component of visual artists' income. Negotiations with the National Gallery of Canada have not progressed smoothly but we are hopeful that a positive resolution will be forthcoming.
Another important initiative that CARFAC has been instrumental in bringing forward is the Artist Resale Right (ARR). The ARR operates in 59 countries in the world and CARFAC is working to get our new copyright act amended to institute ARR. (The Artist Resale Right would give artists and their estates 5% of the resale price on all works that are sold through galleries and auctions when the resale price is $1000 or more). The ARR would not cost the government anything but would greatly benefit the living standards of many visual artists.
So there is much that needs to be done to make the visual arts ecology in Canada healthy. As self employed workers, visual artists need access to an extended health plan, a better pension plan and realistic employment insurance benefits. These are just some of the issues that CARFAC will be exploring nationally and Visual Arts Alberta – CARFAC will be working on in Alberta.
By joining Visual Arts Alberta – CARFAC, you will be adding your voice and name to our advocacy on behalf of all visual artists. Click on 2012 VAAA+CARFAC Membership Form final to download our new membership form. Join us and together we can improve our socio-economic condition of visual and media artists throughout