Brandy Saturley recommended this article about the Canadian Art Market by Nicholas Forrest "Re-evaluating the Canadian Art Market Pt. 1" – artmarketblog.com The article is featured on the blog http://www.artmarketblog.com/2011/10/03/re-evaluating-the-canadian-art-market-pt-1-artmarketblog-com/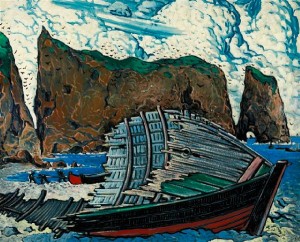 One of the best parts of my job is identifying trends within the art and antique market. A particularly exciting trend that has recently captured my attention is the increased interest being shown in the work of some of Canada's most famous artists – particularly those of, and those associated with, the Group of Seven. The Group of Seven came together at the beginning of the 20th century thanks to a shared desire for a more distinctly Canadian landscape painting tradition to rival that of Europe. According to the McMichael Canadian Art Collection website:
"In the early decades of the twentieth century, circumstances brought together several artists who were committed to exploring, through art, the unique character of the Canadian landscape. Collectively they agreed: Canada's rugged wilderness regions needed to be recorded in a distinctive painting style. This style would break from European tradition and reflect an increasingly nationalistic sentiment. "
The Group of Seven originally consisted of Lawren Harris, J.E.H. MacDonald, Arthur Lismer, Frederick Varley, Frank Johnston, Franklin Carmichael and A.Y. Jackson but grew to include A.J. Casson, Edwin Holgate an L.L. FitzGerald. The Group's contemporaries included David Milne, Thoreau MacDonald, J.W. Morrice, Clarence Gagnon, Albert H. Robinson, Maurice Cullen and Emily Carr. With such a strong French influence that resulted in an extraordinary artistic heritage, it is surprising that the work of great Canadian artists such as those associated with the Group of Seven is not more highly valued. There are, however, several factors that I believe have contributed to the undervaluation of the work of many Canadian artists, which I will explore in a future post.
There are two major events about to take place that support my theory of a revaluation of Canada's most significant historic artists. The first is an exhibition titled Painting Canada: Tom Thomson and the Group of Seven which includes 122 paintings and numerous sketches by Tom Thompson and other members of Canada's famous Group of Seven that has been organised by the Dulwich Picture Gallery in London. What makes this exhibition so significant is that fact that it is the largest international exhibition of works by the Group of Seven to date and will be a touring exhibition. The first stop of the tour will be London's Dulwich Picture Gallery, which will host the exhibition from the from Oct. 16 to Jan. 8, followed by the National Museum of Art, Architecture and Design in Oslo from Jan. 29 to May 13, and then the Groninger Museum in the Netherlands from June 3 to Oct. 28, 2012.
The second major event is the launch of Bonhams' first sale of Fine Canadian Art in New York to be held on the 29th of November. All paintings in the sale will be sent to Bonhams New York for preview and auction. The auction will be simulcast in New York and Toronto, with bidders attending the preview and auction in either location. So far the highlight of the auction is a work by Marc-Aurèle Fortin titled Barque à Percé (Estimate: CAD$150,000/200,000), an artist who shared the Group of Seven's pursuit of a distinctly Canadian landscape painting aesthetic. A major exhibition of Marc-Aurèle Fortinn's work titled Marc-Aurèle Fortinn: The Experience of Colour, the first major museum exhibition devoted to the artist in more than 45 years, was held at the Musée national des Beaux-Arts du Québec from February 10 through May 8 2011 and then at the McMichael Canadian Art Collection from May 28 to September 11, 2011.
To be continued………..
image:
Marc-Aurèle Fortin
Barque à Percé
Estimate: CAD$150,000/200,000
**Nicholas Forrest is an art market analyst, art critic and journalist based in Sydney, Australia. He is the founder of http://www.artmarketblog.com, writes the art column for the magazine Antiques and Collectibles for Pleasure and Profit and contributes to many other publications.