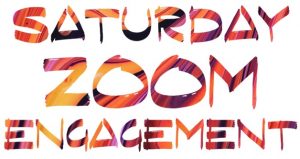 Our informal Saturday Engagement Sessions on Zoom resume in the new year. Anyone across the province can 'drop in' and say hi, ask questions, or just listen if you like.
The next engagement session by Zoom will take place on January 23, from 1–2:30pm Mountain Standard Time. Join with your laptop or tablet so you can see the people talking.
Learn about CARFAC Alberta while meeting and greeting with some of the Board and Staff. Board Members: Donna Barrett, Verna Vogel and Ann Mansolino will be joining Sharon Moore Foster and Chris W. Carson in this session. To RSVP: email chris@carfacalberta.com anytime before 11am on Saturday January 23. Join us for this discussion about the arts in Alberta!
---
(If you're not familiar with Zoom, this link gives a good overview. You can access the meeting through your browser just by clicking on the given link, or if you prefer, the free app is safe to download and use.)