Budget: $25,000
Deadline for Submissions: 2:00:00 pm (MST), August 15, 2019
COMPETITION: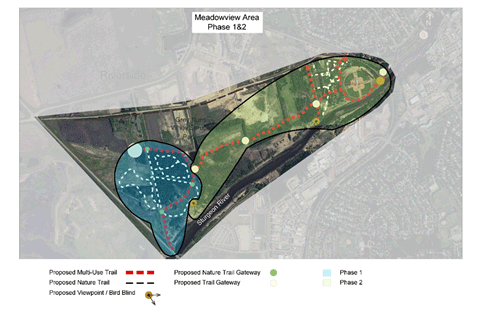 The City of St. Albert (the "City") is requesting proposals from qualified and professional Artists to provide consultation and design as an integral part and member of the Project Team for the Red Willow Park West – Meadowview Artwork Consultation and Design Project (the "Project"). The successful Artist will be responsible for consultation and artwork/s design for the preliminary and detailed design of Red Willow Park, Meadowview Area (Park) and/or the artwork/s design for inclusion of integrated or imbedded artwork in the Park. This design must be viable and cost effective for the Project Team.
The City will also hire a qualified, licensed, and professional consulting firm (the "Consultant") to provide public engagement, detailed design, and construction management services for Phases 1 & 2 of the Project as a member of the Project Team. The Artist will work collaboratively with Project Team members to integrate art into concept and detailed design phases of this Project. The Artist will work with the Project Team through design to construction. The start of construction is conditional upon the future approval of funding, which may be denied. The intention is for the Artist not to be responsible for construction. The City intends to complete all fabrication and installation for the Project, in accordance with the Artist's completed design. However, the City may consider allowing the Artist to complete some of the fabrication work, if the City considers this a desirable option and effective for completion of the Project.
The Meadowview Area flanks the Sturgeon River generally from the trestle bridge to Ray Gibbon Drive and includes several defined places including the St. Albert Heritage Sites, Meadowview Ball Diamonds, Grey Nuns White Spruce park ("GNWSP"), and the developing neighbourhoods of Riverside.
The concept plan for the Meadowview Area is intended to provide connectivity to the existing Red Willow Park Trail system and the Riverside neighbourhood with multi-use trails as well as providing nature trails and viewpoints for a quieter experience with a focus on nature appreciation and education. The GNSWP in Phase One will be a gateway to this area and a destination for citizens and visitors with a natural play space, picnic shelter and a variety of trails
The primary goal of the successful proponent is to work collaboratively with the Project Team to integrate art into the concept and detailed design phases of this Project. This integration will extend the Project's value, including the ability to foster new connections and to exemplify creativity and innovation. The artwork will create engaging spaces for community activity and interaction.
Submission Deadline: 2:00:00 p.m., August 15, 2019 (MST)
Selection of Successful Artist: September 2019
Download this call (pdf)
Please note this is an announcement only. If you would like to submit a proposal, you will require the complete Invitation to Tender ITT19-0030.
For the complete Invitation to Tender please contact:
Crystal Goodfellow
Phone (780) 459-1692
Email: cgoodfellow@stalbert.ca