SpaceFinder is Growing!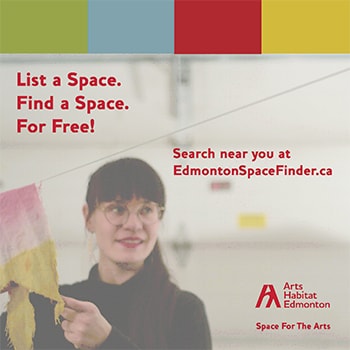 SpaceFinder has welcomed a summer intern to our team and she has been busy, busy, busy! Chloe McKort has been out and about spreading the word on this Arts Habitat project. The face-to-face interaction with those that will benefit from either finding or offering a space, Chloe is able to reach more of our core rental demographic.
Her work doesn't end spending days in the sunshine (or rain) at the festivals! She is on the phone with venues that need a little extra help in setting up their listing. Chloe is a wonderful resource in assisting in the set up captivating listings on EdmontonSpaceFinder.ca. She uses these outreach initiatives at events and through phone calls to spread awareness of the FREE service while acting as an advocate for Arts Habitat.
SpaceFinder is an effective, affordable and sustainable avenue to list and find arts spaces in Edmonton. Arts Habitat is proud to partner with Calgary Arts Development, ArtsBuild Ontario, Alberta Real Estate Foundation, the City of Edmonton, Canadian Heritage, Fractured Atlas and Edmonton Chamber of Voluntary Organizations to bring you this FREE resource.
FREE to List. FREE to Search.
Click here to list or search for your space.