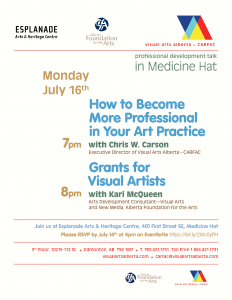 Monday, July 16
How to Become More Professional in Your Art Practice
with Chris W. Carson, Executive Director of Visual Arts Alberta ~ CARFAC  •  7pm
Once a certain plateau in an art career is reached, we ask what's next —where do we go from here? Chris W. Carson will discuss how to price artwork, where to exhibit artwork, where to look for opportunities, when artists should get paid and what to expect from an art career. CARFAC will be discussed along with how it helps emerging and professional artists become more professional in their chosen career.
Grants for Visual Artists
with Kari McQueen, Arts Development Consultant—Visual Arts and New Media, Alberta Foundation for the Arts  •  8pm
Grants can be a key element in the realization of an artist's vision and career evolution. That said, the whole world of grants—understanding and applying for—can be daunting. Who better to learn from than a member of the Alberta Foundation of the Arts who has reviewed dozens of grant applications. Learn what to do and not to do, and give yourself an edge.
This is a free event. Please RSVP by July 14th at 4pm on Eventbrite.
Join us at Esplanade Arts & Heritage Centre, 401 First Street SE, Medicine Hat