Casa Mexico Foundation – Tu Espacio is inviting emerging and professional artists to participate in its first Latin American Art Exhibition. Mediums such as photography, drawing, painting & sculpture are welcome. If you are a Latin American artist or you have done art work inspired in Latin America, this is a great opportunity to have your ART exhibited at cSPACE King Edward.
Deadline for submissions is June 1, 2018.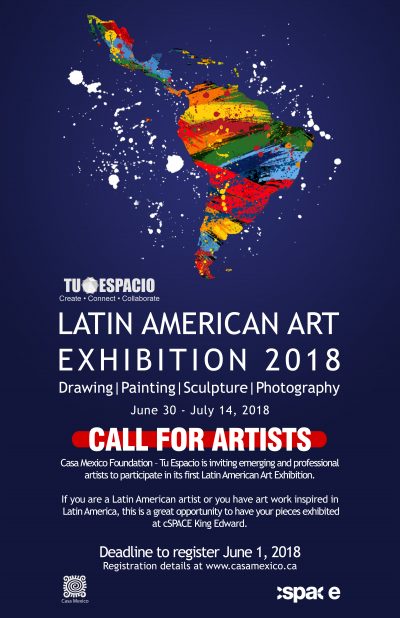 Art drop off is June 27, 2018 from 4:00pm to 8:00pm at cSPACE King Edward, 1721 29 Ave S.W., Calgary, Alberta, main floor.
Artists interested in participating please register online and sign terms of agreement.
Online registration at https://www.eventbrite.com/e/tu-espacio-latin-american-art-exhibition-call-for-artists-tickets-45365078170
Participation fee is $15 dollars per piece with a maximum number of 5 pieces per artist.
Sales of the art work is at artist's discretion. Prices are determined by the artist when submitting the pieces and distribution of sales will go as follows:
90% of the sale price of the art piece goes to the artist and 10% will go to Casa Mexico
Link to our website:   http://www.casamexico.ca/blog/call-for-artists-latin-american-art-exhibition-2018
Link to Facebook event: https://www.facebook.com/events/199661960645574/