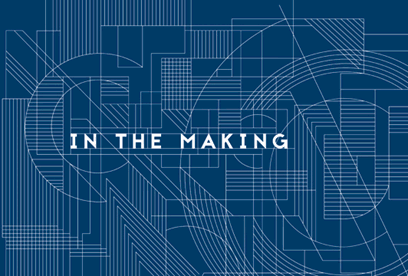 In the making is an 86-page catalogue published by the Alberta College of Art + Design that discusses the work of thirteen contemporary artists whose practices engage various conceptual and material intersections between craft and emerging digital media. The twenty-four works in this exhibition by Ward Bastian, Jolie Bird, Hyang Cho, Dean Drever, Stephen Holman, Mackenzie Kelly-Frère, Robin Lambert, Wednesday Lupypciw, Brendan McGillicuddy, Tyler Rock, Jenna Stanton and Pavitra Wickramasinghe span a diverse range of disciplines—photography, performance, video and sound installation, drawing, sculpture, ceramics, jewellery and glass. Key ideas include the relationship between tacit and conceptual knowledges; the coexistence of traditional and contemporary ways of making that involve processes of translation and remediation; the labour and love of craft and technology in terms of production, distribution and consumption; the dematerialization and rematerialization of art and craft since Conceptual art; and the deskilling and reskilling of postdisciplinary practice.
The catalogue features a curatorial essay by Diana Sherlock and an extended interview with the artists about "Questions of Making and Research," conducted by Canadian independent curator and researcher, Nicole Burisch. The exhibition was hosted by the Illingworth Kerr Gallery at the Alberta College of Art + Design and by the Kenderdine College Art Galleries at the University of Saskatchewan in Saskatoon.
Designed by GOOD Company and printed by cbn Commercial Solutions (formerly McAra Printing) in Calgary, the book includes full-colour reproductions of the In the making installation at the Illingworth Kerr Gallery and each artist's work printed on 100 lb Titan Dull text with soft touch aqueous finish. Sixteen 50T Eames diffused White Architecture dividers include key pullout quotations printed in silver ink. It is beautifully perfect bound with a 122 lb silky Pilke Royal Blue cover with silver line decoration and debossed silver foil stamp title block.
Available: December 15, 2016
ISBN: 978-1-895086-45-4
Price: $25.50 Cdn. plus applicable taxes and shipping
Distribution Contact: Alberta College of Art + Design Bookstore, bookstore@acad.ca, 403.284.7663 or Diana Sherlock, diana.sherlock@acad.ca
Thank you to our funders: the Alberta College of Art + Design, the Alberta Foundation for the Arts, Calgary 2012, Calgary Arts Development, Kenderdine College Art Galleries and the University of Saskatchewan, TD Insurance Meloche Monnex.