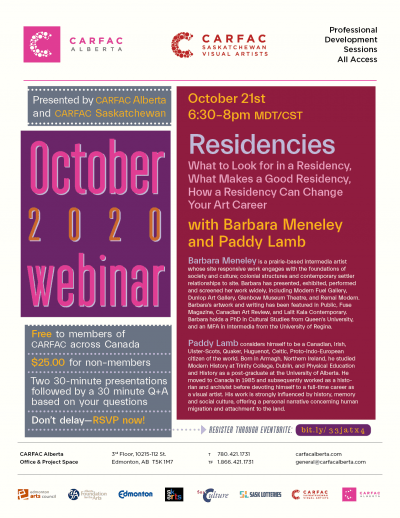 All sessions are free for CARFAC members across Canada. Please RSVP for each session by following the "Register through Eventbrite" link in each session description.
Non-members pay $25 per ticket by following the "Buy Ticket" Eventbrite link in each session description.
The webinar runs from 6:30 until 8pm.
After presentation(s) run for the first 60 minutes, there will be a 30 minute discussion based on the questions that you & other attendees submit for  the presenter(s) to answer
For more information, contact us.


October 21
Residencies
What to Look for in a Residency, What Makes a Good Residency, How a Residency Can Change Your Art Career
with
Barbara Meneley is a prairie-based intermedia artist
whose site responsive work engages with the foundations of
society and culture; colonial structures and contemporary settler
relationships to site. Barbara has presented, exhibited, performed
and screened her work widely, including Modern Fuel Gallery,
Dunlop Art Gallery, Glenbow Museum Theatre, and Remai Modern.
Barbara's artwork and writing has been featured in Public, Fuse
Magazine, Canadian Art Review, and Lalit Kala Contemporary.
Barbara holds a PhD in Cultural Studies from Queen's University,
and an MFA in Intermedia from the University of Regina.
Paddy Lamb considers himself to be a Canadian, Irish,
Ulster-Scots, Quaker, Huguenot, Celtic, Proto-Indo-European
citizen of the world. Born in Armagh, Northern Ireland, he studied
Modern History at Trinity College, Dublin, and Physical Education
and History as a post-graduate at the University of Alberta. He
moved to Canada in 1985 and subsequently worked as a historian
and archivist before devoting himself to a full-time career as
a visual artist. His work is strongly influenced by history, memory
and social culture, offering a personal narrative concerning human
migration and attachment to the land.