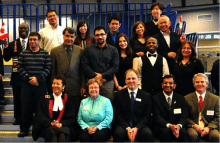 Cultural Access Pass Program Seeks to Introduce New Citizens to More Calgary Arts Organizations
The Institute for Canadian Citizenship's  Cultural Access Pass program, created in 2008, provides new Canadian citizens complimentary admission to more than 1,200 Canadian cultural institutions and destinations. Partners in this program include galleries and museums, performing arts organizations, as well as provincial and national parks and historic sites, to name a few. New citizens over the age of 18 can use this pass for one year to immerse themselves, and up to four children under 18, in Canadian culture in both their own city and across the country.
Many vital programs exist to help newcomers integrate into Canadian life, but the Institute for Canadian Citizenship's Cultural Access Pass program stands alone in its efforts to welcome and celebrate those who have chosen to become citizens and make Canada their official home. The Cultural Access Pass program started six years ago with six partner institutions, all in the Toronto area. The concept has been catching on in the years since, and the program is now offered at over 1,200 locations across the country, with more than 90,000 new citizen members to date.
Several Calgary arts organizations and museums are involved, including the Calgary Fringe Festival, the Glenbow Museum, the National Music Centre and The New Gallery. The Calgary Fringe Festival (which recently took place from August 1 – 9, 2014) offered Cultural Access Pass members the opportunity to attend any play at the festival completely free of charge. This was the third year that the Calgary Fringe has extended this offer to Cultural Access Pass members, who are are always delighted by opportunities to experience the arts in Calgary.
The Institute for Canadian Citizenship would love to see more Calgary institutions join their roster of Cultural Access Pass attractions. Interested arts organizations should contact Samantha Rupert, Institute for Canadian Citizenship's National Program Manager of the Cultural Access Pass, at CAP@icc-icc.ca.