Fifty days to the Supreme Court
The fight for the fair payment of artists at the National Gallery of Canada is going to the Supreme Court. Artists will be heading to the Supreme Court in just fifty days to defend their right to minimum artist fees at the National Gallery of Canada.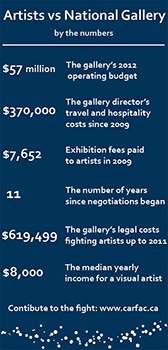 Here are some numbers that paint a quick picture of this ongoing fight:
Many of you have contributed to this campaign and we are now more than halfway to our fundraising goal. Your generosity and support is what has gotten us this far. But we still have ground to cover.
If you have not had a chance, please consider making a contribution. If you have already contributed, please share this story with your friends via email, facebook, twitter, word of mouth, etc.
For more information, visit our website.