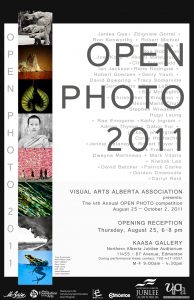 Held off-site at the Kaasa Gallery in The Northern Alberta Jubilee Auditorium in Edmonton, Visual Arts Alberta is pleased to present the VAAA 4th annual photography competition & exhibition. OPEN PHOTO 2011 exhibits some of Alberta's finest photographers. Visual Arts Alberta received an overwhelmingly positive response to this open call and all applications went through a selective jurying process. Our guest juror Eleanor Lazare will choose the best over-all photographer, as well as honorable mentions, prior to the opening reception. Awards will be announced at the opening reception, and the award winning work will go on to be exhibited in Calgary at The Southern Jubilee Auditorium October 2011.

OPEN PHOTO 2011 will open at the Kassa Gallery at the Northern Alberta Jubilee Auditorium on the evening of August 25th, 2011. 38 artists with 57 pieces will be featured in this competition and exhibition. Artists include: David Belcher, Patrick Clarke, Gordon Dinwoodie, Darryl Reid, James Gaa, Zbigniew Gortel , Ron Kenworthy, Robert Michiel, Anne Marie Resta, Ron Robinson, Joel Koop, Akemi Matsubuchi, Clive Figuelredo, Ian Jackson, Rene Rodrique, Robert Goerzen, Gerry Yaum, David Bowering, Tracy Somerville, Gerry Dotto, Dawn LeBlanc, Sky McLaughlin, Christopher L. Kingston, Alexis Marie Chute, Stephen Wreakes, Hugo Leung, Rae Emogene, Kathy Ingram, Adrian Thysse, Gabor Fur, Dave Jackson, Corey Hochachka, Jennie Delaney, Robert Royer, Mark Freeman, Dwayne Martineau, Mark Vitaris and Lee Kiwook.
http://www.visualartsalberta.blogspot.com
Northern Jubilee Auditorium, Edmonton: August 25 to October 02, 2011
Southern Jubilee Auditorium, Calgary: October 2011– to be announced.
EDMONTON: OPENING RECEPTION: Thursday, August 25, 6-8pm @
THE KAASA GALLERY
Northern Alberta Jubilee Auditorium
11455 – 87 Avenue, Edmonton
During performance times contact: 780-427-5057
M-F 9:00am – 4:30pm