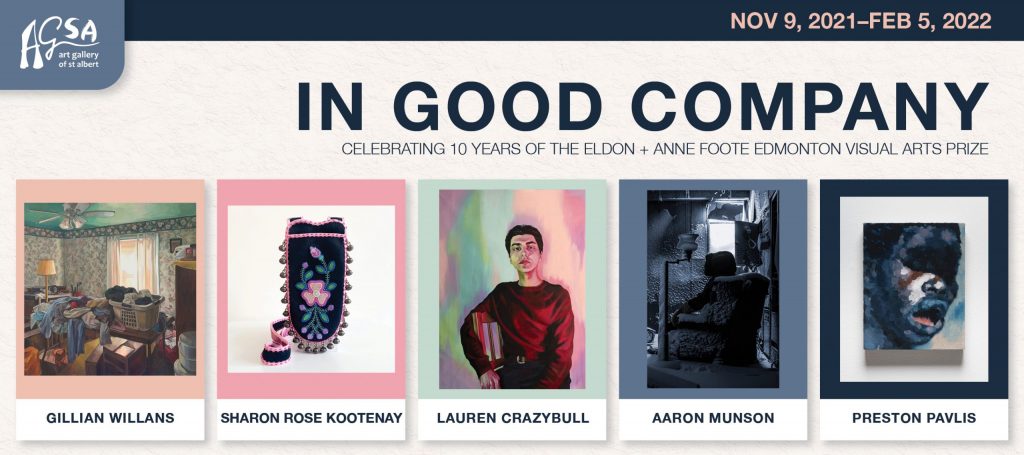 Preston Pavlis, Lauren Crazybull, aAron Munson and Gillian Willans, Emmanuel Osahor, Sharon Rose Kootenay and Jason Symington
In Good Company, the exhibition celebrating 10 years of the Eldon + Anne Foote Edmonton Visual Arts Prize opens at the Art Gallery of St Albert (AGSA) next week. Visit the AGSA website at http://artgalleryofstalbert.ca/exhibitions-events/exhibitions/in-good-company/ to find out about the in-person and online events that are happening between November 9th, 2021 and February 5th, 2022. 19 Perron St, St. Albert.
The Eldon + Anne Foote Edmonton Visual Arts Prize was established with the generous support of the Eldon + Anne Foote Fund at Edmonton Community Foundation and in partnership with the Edmonton Arts Council and Visual Arts Alberta Association. This Visual Arts Prize celebrates the brilliance of Visual Artists in Edmonton. The deadline for the Eldon +Anne Foote Visual Arts Prize is Friday March 11, 2022 at 4pm. Download the application here.