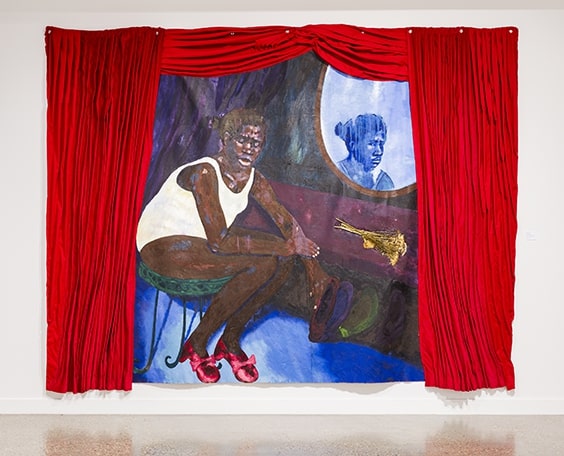 when the jig is up, when the act is finished, when the curtain descends   
Mixed media (oil, fabric, and pressed-flowers on canvas), approximately 96" x 132", 2020.
CARFAC Alberta would like to congratulate Preston Pavlis as the tenth winner of the Eldon + Anne Foote Edmonton Visual Arts Prize along with shortlisted artists Sharon Rose Kootenay and Jason Symington, and Emmanuel Osahor. This year, the judges decided $6000 would be awarded to the winner, with $3000 each for the two runner-ups.
Preston Pavlis' when the jig is up, when the act is finished, when the curtain descends was nominated by Mitchell Art Gallery. The 8′ by 10′ oil paint, fibre and mixed media on unstretched canvas, is described as "a nuanced and powerful, monumentally-scaled depiction of a Black dancer's dilemma: whether to dance for the audience, or for herself" in the nomination letter submitted by the Mitchell Art Gallery.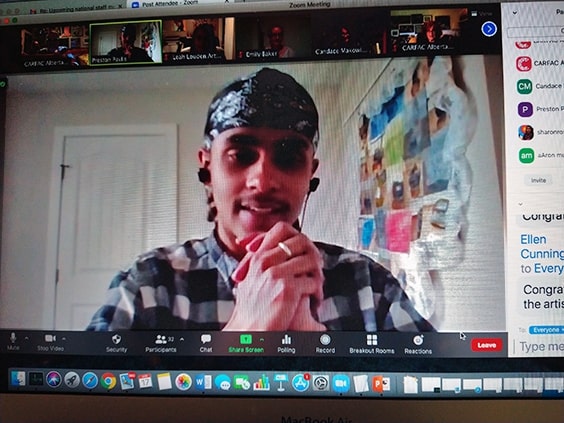 Preston Pavlis
Read more about Preston Pavlis' nominated piece here. Read more about who Preston Pavlis is here.
The Eldon & Anne Foote Fund at Edmonton Community Foundation in partnership with the Edmonton Arts Council and CARFAC Alberta established this prize to both support and honour the achievements of our Greater Edmonton Visual Artists. Previous winners include Arlene Wasylynchuk, Paul Freeman, Brenda Draney, Julian Forrest, Gary James Joynes, Sean Caulfield, Gillian Willans, aAron Munson. and Lauren Crazybull.