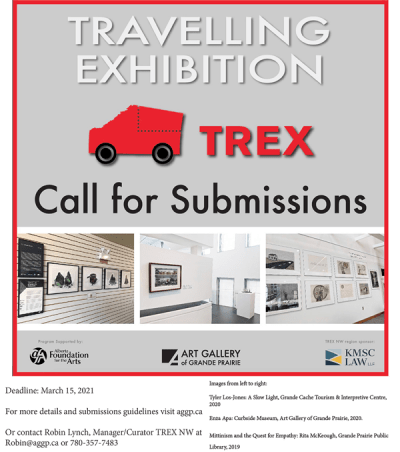 The Traveling Exhibitions Program Region 1 (TREX NW) welcomes proposals from artists based in Treaty 8. The Alberta Foundation for the Arts (AFA) has supported a provincial travelling exhibition program since 1981. The mandate of the AFA Travelling Exhibition Program is to provide every Albertan with the opportunity to enjoy visual art exhibitions in their community. Each year, more than 600,000 Albertans enjoy many exhibitions in communities ranging from High Level in the north to Milk River in the south and virtually everywhere in between.
The exhibition schedule for TREX NW is programmed roughly 1 year in advance. Each exhibition shows between 15-20 artworks and tours for 2 years throughout the province. All artists selected for a TREX exhibition are paid an artist fee. Selections will be made in accordance with the submission guidelines, the TREX NW curatorial mandate, and in consultation with the selection committee.
Submission Guidelines: 
Artwork submitted for consideration must take into account the unique parameters of TREX exhibitions. Due to the extensive travel of these exhibitions, the maximum dimension for artworks that will be considered is 35"x 35". In addition, artists should keep in mind that the works will need to be sturdy enough to withstand travelling to upwards of twenty different venues. To help ensure artworks are safely transported and installed, two-dimensional mediums are preferred.
Download the poster (pdf)
The deadline this year is March 15th, 2021. 
Artists who submit independently may be considered for inclusion in group exhibition programming.
Prioritize submitting a group of works that have a consistent theme, proposal or artistic concept
A layout of an exhibition design is not necessary as the TREX program is responsible for the curation and any programming associated with the exhibition.
Review past TREX exhibitions. Please keep in mind that these works will be in a diverse array of venues from schools to galleries to hospitals.
Submissions will be kept on file for a period of one year for consideration Submission Requirements:
*Artists must be from Treaty 8. We thank all who may apply, however artists from outside of the region will not be considered for this open call.
Please submit the following items in a single PDF document 
Curriculum Vitae (Resume)
Project Proposal (500 words max.)
Artist Statement (300 words max.)
Up to 10 digital images (USB Drive or online sharing sites such as Dropbox, or Google Drive)
Image List (Title, Medium, Size, year) Submissions, or any questions about the Open Call, can be emailed to Robin Lynch (Program Manager/Curator TREX NW) at Robin@aggp.ca. Please use "TREX Open Call Submission 2021" as the subject line on your email submissions.
Robin Lynch
Manager/Curator
Travelling Exhibitions Program NW
Art Gallery of Grande Prairie

www.aggp.ca
[p]: (780) 357-7483