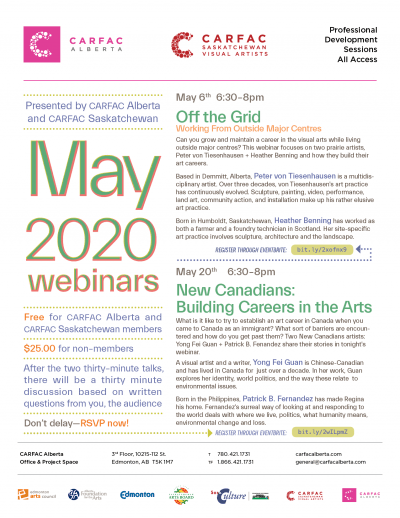 Presented by CARFAC Alberta and CARFAC Saskatchewan
All sessions are free for CARFAC Alberta and CARFAC Saskatchewan members. Please RSVP for each session by following the "Register through Eventbrite" link in each session description.
Non-members pay $25 per ticket by following the "Buy Ticket" Eventbrite link in each session description.
Both webinars run from 6:30 until 8pm.
After the two thirty–minute talks, there will be a thirty minute discussion based on written
questions from you, the audience
For more information, contact us.
May 6

Off the Grid
Working From Outside Major Centres
Can you grow and maintain a career in the visual arts while living outside major centres? This webinar focuses on two prairie artists, Peter von Tiesenhausen + Heather Benning and how they build their art careers.
Based in Demmi , Alberta, Peter von Tiesenhausen is a multi-disciplinary artist. Over three decades, von Tiesenhausen's art practice has continuously evolved. Sculpture, painting, video, performance, land art, community action, and installation make up his rather elusive art practice.
Born in Humboldt, Saskatchewan, Heather Benning has worked as both a farmer and a foundry technician in Scotland. Her site-specific art practice involves sculpture, architecture and the landscape. Register Through Eventbrite
May 20
New Canadians: Building Careers in the Arts
What is it like to try to establish an art career in Canada when you came to Canada as an immigrant? What sort of barriers are encountered and how do you get past them? Two New Canadians artists: Yong Fei Guan + Patrick B. Fernandez share their stories in tonight's webinar.
A visual artist and a writer, Yong Fei Guan is Chinese-Canadian and has lived in Canada for just over a decade. In her work, Guan explores her identity, world politics, and the way these relate to environmental issues.
Born in the Philippines, Patrick B. Fernandez has made Regina his home. Fernandez's surreal way of looking at and responding to the world deals with where we live, politics, what humanity means, environmental change and loss. Register Through Eventbrite