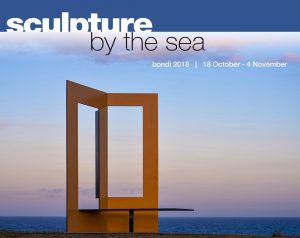 Submissions for Sculpture by the Sea, Bondi 2018 are now open.
Artists are invited to submit entries online or via post for pre-selection in the 22nd annual Sculpture by the Sea to be staged along the coastal walk from Bondi to Tamarama in Sydney, Australia from 18 October – 4 November, 201
Before beginning your application please read our Terms and Conditions
To apply online
To begin your online application, please click here.
The deadline for online applications is midnight, Monday 2 April

To apply via post
Download a copy of the Bondi 2018 application form.
Please send all hard copy applications to PO Box 300, Surry Hills, NSW, 2010. Applications must be postmarked before 5pm, Thursday 29 March
Awards and subsidies for Sculpture by the Sea, Bondi 2018 include:
The Aqualand Sculpture Award increased to $70,000
Each artist's costs are underwritten up to $2,000
Three Helen Lempriere Scholarships of $30,000 each open to Australian artists
Four new and innovative works subsidies of $5,000 – $10,000 with support from the Australia Council for the Arts
Three Clitheroe Foundation Mentorships of $10,000 for young emerging Australian artists
$10,000 for an Israeli artist to exhibit
The Wallace Foundation New Zealand Sculptor Award for a New Zealand artist of NZ$7,000
The Dick Bett Memorial Invitation for a Tasmanian artist of $5,000
If you have any questions regarding the enclosed information please contact Natasha King, Exhibition Coordinator on +(61 2) 8399 0233 or natasha.king@sculpturebythesea.com
Please feel free to distribute this email, post on relevant notice boards and share throughout your networks.
Visit our website for more details
We look forward to receiving your submission for Sculpture by the Sea, Bondi  2018.
Good luck!
The Sculpture by the Sea Team