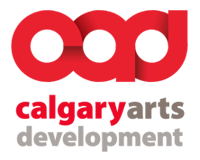 Calgary Arts Development is pleased to announce a unique partnership with The Calgary Congress for Equity & Diversity in the Arts (CCEDA), called In/Pact.
"Calgary Arts Development is excited to be working with CCEDA on the In/Pact initiative," says Patti Pon, President and CEO of Calgary Arts Development. "Working together, we will develop a suite of reporting, measurement and assessment tools to assist Calgary's arts sector with their own equity & diversity strategies."
Canada's professional arts sector is at an historic moment. Diversity has been officially recognized as a primary driver of artistic, social and economic enrichment. We are on the cusp of some momentous changes to the Canadian cultural landscape as a result. The specific goals of In/Pact are consequently to stimulate city-wide discussion about the value of equity & diversity in the arts and strengthen the arts sector's equity, diversity & inclusion capacity.

Over the next year, CCEDA and Calgary Arts Development are embarking on a series of shared activities, including community consultations and conversations; the development of diversity reporting tools and equity assessment measures; and arts equity intervention training and cultural capacity development workshops.
"There is tremendous knowledge and skill in our city in the area of equity & diversity in the arts," continues Pon. "The co-producers of CCEDA—Michele Decottignies and Jenna Rodgers—are great leaders in this realm. The time is now to provide a local solution to a national arts equity problem. Our sector and our citizens will be the beneficiaries of this important work."
CCEDA is a municipal arts service organization of diverse artists who are collectively advocating equal access and equal opportunities for all equity-seeking artists in the professional arts sector.
"Calgary Arts Development is an ideal partner in helping to develop a city-wide arts equity strategy," says Michele Decottignies, founder of CCEDA. "While CCEDA brings extensive equity & diversity expertise to the table, Calgary Arts Development has the reach needed to engage Calgary's entire arts sector in this historic moment in Canadian arts history."
The over-arching intention of In/Pact is to create a home-grown model of reciprocal collaboration that positions Calgary's arts sector as a model of excellence in equity & diversity in the arts.
FOR MORE DETAIL, PLEASE VISIT:
http://us13.campaign-archive2.com/?u=a00c1423ef77b5a981e878659&id=3abdcdfc1f&e=7447a787ec