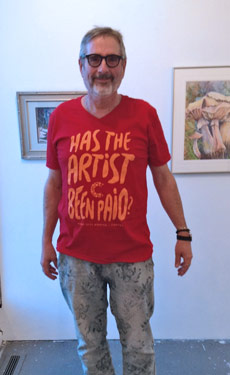 We are happy to announce that this year's "Has The Artist Been Paid?" T-shirts have arrived and are availalbe for sale. Make your beliefs known with pride on a premium cherry red v-neck t-shirt with slogan in orange. A bold design for a bold statement.
Sizes s-m-l-xl $25 and 2xl $30
To order, email sharon@visualartsalberta.com, phone 780.421.1731 (toll-free 1.866.421.1731 – we will ship anywhere in Canada) or drop by the Visual Arts Alberta Gallery during our office hours, Wednesday-Friday 10am-4pm, Saturday 12-4pm.
Model: Chris W. Carson, Executive Director of Visual Arts Alberta ~ CARFAC