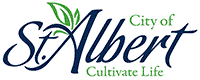 The Culture Department in St. Albert is pleased to share with you our Report on Culture. We decided to present things a little differently, so in addition to our annual report, we've also created a video that shows a year in the life of Culture in St. Albert.
The video includes both Performing and Visual Arts, and moments captured from the Mayor's Awards, the Northern Alberta International Children's Festival, St. Albert Children's Theatre, the Amplify Festival and the Arden Theatre.
As the report is a large file, here is a link to our website. The Report is available to download as a PDF and you can view our video here.