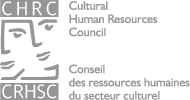 The Cultural Human Resources Council's (CHRC) much anticipated Cultural HR Study 2010 is now online. The Study, conducted by the Conference Board of Canada, draws on the input of thousands of employers and workers from the entire cultural community in Broadcasting; Digital Media; Film and Television; Heritage; Live Performing Arts; Music and Sound Recording; Visual Arts and Crafts; and Writing and Publishing.
This is the largest HR study ever undertaken on the cultural sector in Canada.
It includes both a Labour Market Information (LMI) report, rich with the most complete set of tables and detailed statistics ever assembled on the cultural labour force; and an in-depth report on HR Trends and Issues faced by employers, employees and the self-employed.
The LMI report documents the breadth and strength of the sector with a labour force of 539,000 employers and workers across the country, and an economic impact of $39 billion or 3.1% of GDP.
The HR Trends and Issues report is based on interviews, consultations and a survey of close to 3,000 employers, artists and cultural workers from across the sector and across the country. Highlights include industry fast facts; environmental overviews of HR issues, with employer and worker perspectives; and promising policies, programs and practices.
The overriding issue in all cultural sub-sectors is the "digital tsunami" that is changing the way art and cultural products are created, produced, distributed, marketed and preserved. In its wake are critical HR issues such as the need for new skills training, new business models and new partnerships to enable Canada's cultural workers to take full advantage of the global marketplace.
http://www.culturalhrc.ca/research/HRStudy2010/hr-trends-e.php