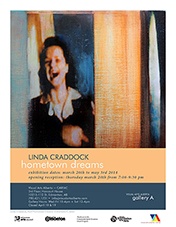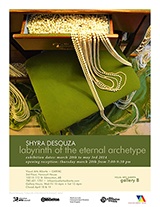 Visual Arts Alberta Gallery, Edmonton presents:
Shyra Desouza
'labyrinth of the eternal archetype'  and
, Linda Craddock
' hometown  dreams' .
Linda Craddock's rural Alberta community provides subject and metaphor for her paintings. The conflict between memory, subconscious memory and reality form the framework for her work.
In her installation Shyra Desouza  uses/manipulates found objects and recognizable imagery to create a sense of the uncanny: a tension between our desire for the easily identifiable and the unknown.
Visual Arts Alberta-Carfac 3rd. Floor, Harcourt House 10215-112 St. Edmonton, AB. Exhibition Dates: Thursday March 20th. to May 3rd. 2014 (closed April 18 + 19)
Gallery Hours: Wednesday – Friday 10-4pm. & Saturday 12-4 pm.
Opening reception: Thursday, March 20 from 7-9:30 pm.