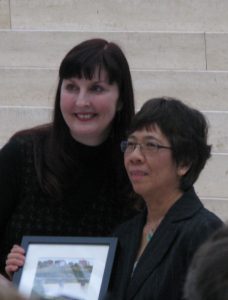 One of the ten recipients of the 2011 Edmonton Artists' Trust Fund Award was Visual Arts Alberta member Amy Loewan.
Amy Loewan is a dedicated visual artist and cultural ambassador. Many of her works illustrate the integration of her Chinese heritage with western postmodernist art practices. She has received numerous grants and awards including The Canadian Artists and Producers Professional Relations Tribunal's Award for Excellence in the Arts commemorating the 50th Anniversary of the Universal Declaration of Human Rights (Ottawa).
Her large mixed media installation works A Peace Project & Illuminating Peace aim to dissolve cultural boundaries have exhibited in public galleries in Alberta, British Columbia, Yukon, Saskatchewan, Manitoba, Ontario as well as overseas in Shanghai and Hong Kong. In 2010 A Peace Project was recognized as a work of "outstanding significance and national importance" and was certified as a Cultural Property of Canada. Amy is currently an instructor at the University of Alberta, Faculty of Extension Fine Art Certificate Program.