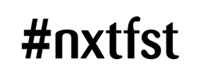 Nextfest is now accepting Visual Art submissions for the 2018 Festival. The festival runs May 31 – June 10 in Edmonton, Alberta. Nextfest is an opportunity for emerging visual artists to show and create new work. For the purpose of this festival, "emerging" refers to artists under the age of 30 who are not professionally represented.
Nextfest is also an opportunity to collaborate. If you are interested in working with another artist on a new work, let us know!
This year there are five opportunities related to visual Art. Please read through all of them. Applicants are welcome to answer more than one call. Three of the calls are offered through the Serving Communities Internship Program (SCiP) and are exclusive to currently enrolled or recently graduated post-secondary students registered in Alberta.
GALLERY EXHIBITIONS – APPLY NOW!
Deadline: March 10
VISUAL ART NITECLUB – APPLY NOW!
Deadline: April 1
VISUAL ART EXHIBITION COORDINATOR – APPLY NOW!
Deadline: February 15 | Applicants must be post-secondary students
STUDENT MURAL ARTIST – APPLY NOW!
Deadline: March 1 | Applicants must be post-secondary students
FESTIVAL IMAGE ARTIST – APPLY NOW!
Deadline: March 1 | Applicants must be post-secondary students