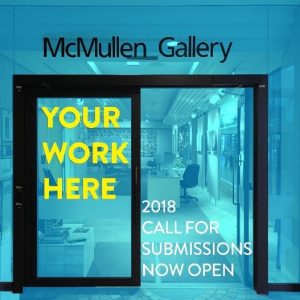 McMullen Gallery is currently accepting proposals for our 2018 Call For Submissions – due March 31, 2018
McMullen Gallery seeks proposals for the 2019-2020 exhibition season from practicing artists, curators and organizations, with consideration for the meaningful experiences that art allows in a hospital setting.
McMullen Gallery exhibits artwork in all media that is soothing, uplifting, humorous, and/or thought-provoking including but not limited to health-related subject matter. McMullen Gallery considers artwork that is appropriate to potential sensitivities of patients, and also that which may be most impactful to the hospital community.  McMullen gallery pays artists according to CARFAC guidelines, and also covers the cost of opening celebration, invitations, labels and signage.
Deadline for Submissions: March 31, 2018
Interested Applicants should be directed here: http://www.friendsofuah.org/mcmullen-gallery/submissions/ where they can find more details and also submit.
Questions: mcmullengallery@ahs.ca