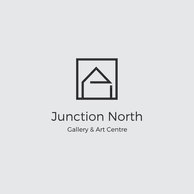 Call for Submissions Spring 2018
In the Northern hemisphere, the North Star (or Polaris) is known as the guiding star in a night sky. Located nearest the north celestial pole, Polaris shows us where due north is and has been used historically as a way-finder and reference point. Junction North Gallery, inspired by the North Star, is a hub and a reference point in Western Canada that brings together creative projects and emergent ideas from the fields of art, design and environmental studies.
What is Junction North Gallery
Junction Gallery (JN) is a micro-sized, 'green', touring art and craft gallery and art centre based in Calgary. Each contemporary art exhibition is juried from a selection of works submitted during our calls for submission which occur multiple times per year.
For this open call, we are especially interested in small-scale 2D works in any medium that engage with the theory and/or  practice of: contemporary landscape, cultural geography, space and place, the built and the natural environments, consumer culture, slow living, sustainable living, environmental stewardship, renewable energy technology, upcycled or recycled materials or related themes.
How to Apply
To submit work for consideration:
Please email a brief description including the theme, the dimensions and the medium of your small-scale works and three JPG images by email to kristhoreson@outlook.com.
Submit the fee by visiting com.
Fee: $10 Canadian per submission (of three images) via Eventbrite.
A 40% commission will be kept by Junction North Gallery, per piece.
Specifications for emailed submissions:
JPG files only
File Names: Title_LastName_Year_Dimensions.jpg
File should be no larger than eight inches on the longest side.
150 dpi/ppi only
Larger files or anything other than a JPG will not be considered.
Deadlines: Submissions will be considered until February 16, 2018.
Who: Emerging and established works by artists from any country may apply to this juried, group exhibition.
For full details on how to submit, please visit junctionorth.ca.